Welcome to BrashTalk #24 The Newsletter of the Polar Tourism Guides Association
In This Issue:
From the Field
In late November I had the pleasure of returning to the field as EL on a larger vessel in the fleet. I was keen to see what the somewhat-post Covid industry looked like I wanted to see what pressures ELs faced through the busiest year on record and with Covid and Avian Flu protocols overlaid on top of an already exhausting role. I wanted to see how guides were responding to increased workloads, expectations and pressure. I wanted to witness how/if the guest experience would be affected within these new circumstances.
From what I see and hear from guides, members and social media, homophily (a sociological concept describing the tendency of individuals to associate and bond with similar others, as in the proverb 'birds of the feather flock together') in the polar and expedition cruise industry is stronger and more pervasive than it has ever been regardless of company affiliations. The concept of 'we' is as strong as I've ever seen it and the enthusiasm for achieving Polar Guide or Senior Polar Guides status has very real cachet and value for guides. We want this. It builds the profession AND professionalism. With professionalism comes support and protection for our guests, the environment and for our colleagues and we have pathways for difficult conversations and support networks to help when things go wrong.
With regards to guiding skills, there is a lot of experience in the polar guiding community and we're all better off for collaborating with each other. Share with and learn from your colleagues. From zodiac driving skills to managing surf landings to giving formal lectures, guides need to function at a high level in all aspects of the job. Be a mentor. Find a mentor. Embrace feedback in its useful forms. Hold regular debriefings with your team, and never hesitate to ask for help out there. You can also count on PTGA to continue feeding you skills enrichment resources and working hard to support industry standards for all guides.
Speaking of improvement, I'd like to share a few additional thoughts now that 2023 is well formed and on the move:
Firstly, given the early season incidents that have beset the fleet, we encourage you, as always, to take safety and risk management very seriously. Be conservative out there. Make full risk assessments before and during activities. Operate only within your personal scope of training and comfort. And very importantly – don't be afraid to ask for help or say no to a landing or activity that you don't feel comfortable with or think is too risky. As always situational awareness and changing management given the local conditions are two incredibly important skills.
Secondly, Avian Flu needs to be taken seriously. Choose responsible visitation over hedonistic exploitation. IAATO has developed Avian Influenza/COVID guidelines for you. Please do understand and follow these guidelines at all times in the field. Access all of IAATO's Avian Flu resources here.
From the office side of things, I can report incredible positivity. Enthusiasm for professional standards and certifications is at a record high (check out the list of new status Polar Guides at the end – all achieved through assessment). PTGA membership has added over 100 members just since August! It's the fastest increase we have ever seen since our inception. These numbers tell a story, and it is partly one of marked growth industry-wide and recognition of the need for guide competence to an industry standard. The most accessible and cost-efficient way for guides to receive training and certification in polar guide skills is during their work contracts. Likewise, the simplest and cheapest option is for companies to develop their own training programs is by adopting established industry standards such as PTGA's. So if you're new to the industry or desire to level-up your abilities, talk with your operations manager about utilizing PTGA's framework.
We are looking forward to a banner year and on behalf of our Board of Directors we wish you a safe latter Antarctic season, some good rest time and a safe start to the Arctic 2023 season.
Sincerely,
Graham
Assessor Training, EGA and WFR Courses
Assessor Training Course
Copenhagen, May 1/2 2023
Available to anyone with the pre-requisites
Please get in touch if you wish to be on this course to become a PTGA Assessor
Expedition Guide Academy Courses
The Expedition Guide Academy have a busy schedule of courses for the northern season. The Polar Bear Operations and Firearms course is particularly popular and the certifications are accepted by the Norwegian authorities.
Polar Bear Safety & Firearm Handling
11-13 May, Denmark
30 May-1 June, Denmark
10-12 October, Denmark
Comprehensive Guide Course
18-23 April (PTGA Assessment 24,25 April), Denmark
20-25 May (PTGA Assessment 26,27 May), Denmark
30 September-5 October (PTGA Assessment 6,7 October), Denmark
European Wilderness First Responder Courses
Some of PTGA's higher level qualifications require advanced wilderness first aid training (>40hour course). Check out these European courses recently published if you are looking to improve your first responder skills ahead of the Arctic season.
Membership Fee Increase
From April 1, 2023 PTGA annual membership fees will be increasing.
PTGA has grown enormously recently and we are well-positioned to expand our range of programs and member benefits. Since the beginning of 2017 the PTGA Board has kept fees stable, notably during the Covid lockdown years when guides were not able to work much. It's now time to make slight increases in order to better serve your needs and meet our organizational objectives.
As of April 1 2023 individual membership fees will increase to US$125pa. Assessor fees will increase to US$185pa.
Where this money will go:
Increased hours for administrators to better service our current member needs
Further development and implementation of online training courses (geared toward earning formal PTGA Guide status)
Further development of online eLearning resources (geared toward general guide and EL skills)
Expansion of Assessor training courses, both online and in-person (which results in increased assessment capacity and certifications for guides)
Travel for PTGA representatives to attend key industry events and convene with operational partners and to help build training and assessment programs for guides
Claim your Membership Account – Please!
In August 2022 we moved our Member Management System to a new application called
TahDah. We've done most of the heavy lifting to move your personal account details to the new system. We still do require your help on three points:
Activate your account via the personal email sent to you (or request these details from admin@polartourismguides.com).
Enter any credit card details and payment information. (financial security protocols prevent access and migration of personal banking details from one management system to another).
Review your portfolio to ensure all information is correct and your personal qualifications have all loaded properly.
We apologise for any inconvenience while we get through this massive migration project!
If anyone is having any problems with the system please get in touch.
Robin Aiello
It was with great sadness that we learned of Robin's passing this past January.
Robin was one of our most active Assessors and had fully engaged and embraced the role of training and assessing guides to an industry standard.
She was much loved and respected across our industry and candidate feedback showed how successful she was at helping them improve: "I couldn't believe I could have Robin Aiello as my Assessor. She has so much experience and knowledge to share. I felt completely at ease through the assessment process and appreciated all her feedback. It was a invaluable! – and so much fun"
We are thankful for her time with us and know her spirit and enthusiasm will continue to inspire the next generation of guides.
Scuttlebutt

New Pro Deals! 
Alexandra has been busy in her role and recently added The North Face, DryShod Boots, Mont, Keen and Arctic Edge to the Pro deal offerings for members and guides. Sign on to the Members Only area and check it out.
[Note Pro deals are for members and status guides only. You must have claimed your new account in order to access the Member-Only pages on the PTGA website.]
Guano Happens Compilation (Rusty Shackles Review)
We've had great feedback on the compilation pdf document of our Guano Happens incident and near miss review column and Graham was heartened to arrive on a ship recently and find a copy as mandatory reading for staff in the Expedition office. Graham also did a number of zodiac training sessions for my team and found the Rusty S Hackle training columns very useful. We are in the process of compiling all our Training and Development columns into one compilation resource also. Stand by.
Revalidation
Status Guides are required to revalidate every 4 years. Those who are due for revalidation will have received notice. If you have any questions please get in touch.
Nature Guiding Skills
We are creating a draft syllabus for Nature Guiding Skills in order to recognise the vital and diverse range of skills and knowledge a guide must have to interpret the natural environment and move safely and responsibly around wildlife and deloicate ecosystems. If anyone has a deep interest in this and would like to help draft this syllabus please drop us a line
Correction – In our last edition of Brash Talk #23 we incorrectly congratulated Julia Wellner as Polar Guide when in fact she is a Senior Polar Guide.
New PTGA Project Manager
We are excited to welcome Alexandra Hansen to the administrative team. Alexandra is a Senior Polar Guide and is currently working for Silversea Expeditions. She was raised in California, Beijing and Singapore. Alexandra grew up with a natural interest in international exploration. After graduating from Kenyon College in 2017 with a B.A in International Studies, Asian Studies, and China Area Studies, she furthered her education at the Hopkins-Nanjing Center where she completed graduate-level coursework on US-China relations in Mandarin.  Alexandra has worked as a Lecturer and Expedition Guide on all 7 continents. Welcome Alexandra!
Alexandra now has a number of areas of responsibility and is thus our "Area of Responsibility Manager". In this role she will be in charge of:
Pro Deal Program – increasing our Pro Deal offerings and broadening our range (see below for progress made already)
Website review – keeping our website up to date and relevant
Sustainability – keeping us in the right place with regards to sustainability issues
Training and Development –  Dealing with wind in Zodiacs
by Rusty S Hackle
When I'm driving my Zodiac, whether on a cruise or shuttle to shore I'm trying to give my guests, amongst many other things, the most time off the ship as possible. We can all immediately see that being fast will contribute to this, but one thing I see inexperienced or thoughtless drivers not consider is that the guests also get longer when they are warm, dry, uninjured and with dry undamaged camera gear. Cold wet guests will quickly feel the need to get back to the ship. So here we are going to talk about getting places quickly but also about getting there with warm, happy guests. In other words, how to drive like a professional polar guide.
Using wind efficiently
When being efficient with the wind, the main thing to bear in mind is that you'll usually be faster going downwind than upwind or across the wind. And you'll be fastest still in calm conditions. So if you can choose, always choose flat water, and if you must drive in wind, drive downwind if you have the choice. The diagram below demonstrates this — the upper Zodiac has used calm, sheltered conditions in the fjord to get to a position as far upwind as possible when they leave shelter and have to get back to the ship. The lower Zodiac has squandered this opportunity, and when they get out into the rough water they are forced to drive to the ship upwind. This means they need to start their journey back earlier, and their passengers will have a slow, wet, cold and bumpy ride.
Keeping people dry and safe
What if, as is more likely, you don't have the choice of route or of wind direction? Let's imagine we are having to get between ship and shore. You want to get people to shore quickly, but even more importantly you want to get them there as dry as possible and you don't want to injure anyone.
When I'm about to set out on a rough drive, I start with a bit of general boat administration — I disclose to guests that while I'll work hard to keep them dry and safe it might still be wet and bumpy. Anyone concerned about jarring an injury, or if they have a weak back, gets moved to the back of the Zodiac where the bumping and slamming will be the least. This also gives everyone an opportunity to do up their jackets, put up hoods and put away cameras.
Usually I find that any wetness in the Zodiac is caused by the Zodiac itself throwing water into the air, and then the wind pushing that spray into the boat. You can prevent this to some degree by three methods:
Drive upwind or downwind (zig zag
Trim the Zodiac
Find the speed sweet spot
You will notice that when you are driving upwind or downwind it's less wet than if you're beam on to the waves. You don't have to drive directly upwind, there is a cone within which you can drive and reduce splashing. So if your route is largely upwind you can just drive straight there. But if your route is directly across the wind then you might need to try a different mitigation. By zig-zagging you avoid driving across the wind at all and alternate between driving upwind and downwind, always staying within your cones of dryness. How far you can turn away from the wind without getting wet is quite situation dependent and you have to practise and experiment, and even then you will get the occasional splash
We can also trim the Zodiac with the weight of our guests. If driving upwind then move everyone back in the boat, leaving empty space up front; this gets everyone out of the worst slamming zone and will also cause the bow of the Zodiac to stick up in the air and act as a shield for spray coming from the front. If the spray is coming from the side then move one or more people to the downwind side of the boat. Your passengers will be a bit squeezed together but they'll be drier. Don't do this when driving downwind into a following sea as this can encourage the boat to bury its bow into the back of a wave and potentially swamp or broach. The shape and size of Mk V Zodiacs mitigates against this so it isn't something most of us think about, but different designs will bury their bows more readily if you aren't cautious.
Find the speed sweet spot. Generally if you slow down you make fewer splashes with the boat so there's nothing for wind to blow around. But the reason I say we need to look for the "sweet spot" of speed is because the speed that produces the least spray when driving upwind is actually often NOT the slowest speed! As you put more power into the water the engine 'digs in', putting the stern down and the bow up, creating the trim conditions that causes the bow to act as a shield for the guests in an upwind situation. But if you keep increasing speed then the sheer amount of spray created overwhelms the trim effect and the boat starts getting wet again. Pay attention to what is happening and see what works best.
We've seen here that there's a lot to understand about wind, even though we are driving power boats. There's a reason navies still sometimes train with sailing boats! Being able to understand the wind and how it affects boats will really accelerate your path towards being an expert driver. Keep paying attention out there and keep talking to each other and learning!
Caption 1: The upper Zodiac uses the calm, sheltered conditions in the fjord to get upwind, so when they get into rougher water it's downwind back to the ship. The lower Zodiac hasn't been so sensible, and their passengers have a slow, wet and bumpy ride ahead of them.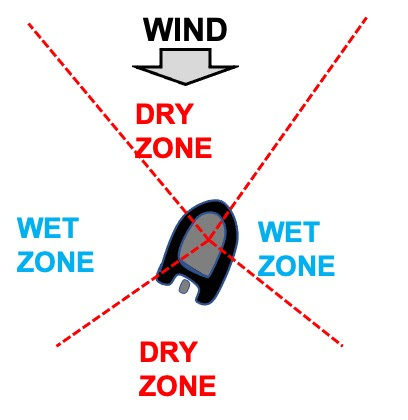 Caption 2: If you drive upwind or downwind between the two dotted red lines then you're likely to stay drier than if you point the Zodiac outside this cone of dryness. The size of the cones are quite conditions-dependent so play around and find what works! You'll notice that the downwind cone is usually wider than the upwind one.
Caption 3: Landing site 1 *just* lies within the cone of dryness, so the Zodiac can drive straight there. However, landing site 2 is well outside it and the boat must zig zag up and down wind to get there dry.
Caption 4: Put weight on the downwind end or side of the boat to get the sponson out of the water so it acts as a barrier for spray. It's best to avoid this when going downwind as firstly it's unnecessary, secondly it's ineffective, and thirdly and most importantly it can cause you to bury your bow into the back of a wave which can be extremely dangerous.
Guano Happens: Process Incident – Shore excursion conducted at a closed site (Prion Island).
Mistakes are a fact of life. It is the response to error that counts
Overview
This wasn't a safety incident but an important 'process' incident and our standard safety causal factors don't really fit in the review.  It is worth discussing however. These mistakes do happen and it is only by acknowledging them and learning from them that we make progress as leaders and as an industry. None are immune to mistakes, including myself, as this incident demonstrates and I give permission for it to not be anonymised. 
Event Narrative
We began operations at 1400. The landing was similar to many other landings in the northern part of SthG. A senior staff member/ornithologist inspected the boardwalk and reported all okay and that there was no indication of avian bird flu but that a number of broken cross boards on the boardwalk were safety factors needing disclosure. I and the expedition team then facilitated a site landing with passengers as would be typical.
[The error was identified later that evening: Prion Island Boardwalk was closed as per South Georgia Government requirements and the IAATO FOM.]
The decision to land was made in error after misinterpreting a number of factors:
In preparing for the trip I had been focused beforehand on passing the bio-security test at Gryviken and was additionally focused on safety management and staff development for the coming days. 
Scanning  the FOM/site guideline on my phone app, in a rush of time, and all appeared in order at a glance. After the error was identified later I re-checked and noted in the site guidelines there is the Cautionary Note as the second to last item and closed dates noted at the start.
I misinterpreted the crossed-out section on Prion Island of the GSGSSI Declaration Document as being 'no longer relevant'.
I had checked the ship scheduler for Prion and seen 'Landed' as a viable option and wrongly added that to my inaccurate notion that perhaps it was open after a 2 year hiatus. That seemed to make sense or at least add to my confirmation bias.
A few key learning opportunities arise here:
The lack of fluency and currency in dealing with various information and regulation tools was a key factor. EL's should dedicate quality time to closely review the site guidelines in advance for areas where visits are likely to occur. The practice of thorough preparation prior to voyages helps to prevent in-situ mistakes in face of voyage planning, myriad operational tasks, staff management, and even fatigue or illness during the time of decision-making.
Additionally, as guides and EL's we regularly push ourselves to perform in marginal comfort zones. This preconditioning can make us push ourselves too hard and – in this example – be less willing to step back from decision making when overburdened or fatigued. Task saturation is a very real phenomenon. It pays to slow down and take time for considered decision-making. A powerful tool for EL's and activity managers is your expedition team – call on qualified staff members to assist with tasks or to act as a sounding board when generating ideas or making decisions.
Statistically, if this roulette wheel of circumstance occurred once then without any change it may happen again. Certainly I never had any intention of wanting to break any rules but mistakes happen and we can learn from them. Modern day ELs carry an incredible administrative burden before they even start to think about shore logistics for the day. As the volume and complexity of regulations grow, the expectations of ELs and staff also grow. It is becoming easier to miss things. Over the years we've seen new systems (and improvements to those systems) implemented by polar tourism stakeholders that assist EL's in their work, and there may be opportunities here for further improvements. Similarly, EL's and guides must evolve their own preparation, planning and operational methodologies to ensure compliance and, ultimately, safe and rewarding traveler experiences. It is only through collaborative efforts that we are all successful.
Graham Charles
Member Updates
PTGA members – 562
Senior Polar Guides – 240
Polar Guides – 165
Provisional and Full Assessors – 36
Congratulations to our recent status guides:
Polar Guide: Erin Katie O'Brien, Niclas Forsmark, Todd Gooding, Andy Woods, Sara Catella, Anastasia Ezhova, Ben Luckx, James Roberts, Sarah Gerats, Sara Rodriguez Ramallo, Alin Hardy, Francois Havenga, Kelly Haywood, Steve Backus, Max Seigal, Bruno Cazarini, Al McFeeters, Taygen Hughes, Thomas Marks, Carolina Carrasco, Phoebe Olsen, Marc Dols Mut, Filip Brovkin, Cherese Taggart, Laurant Eray, Shaun Lotter, Jack Alscher
Senior Polar Guide: Katja Baum, Gert van Dalen, Julia Wellner, Christian Bruttel, Jens Wikstrom, Arien Ramnefjell, Matts Ekman, Grigory Tsidulko, Robert Lundgren, Rhiannon Pritchard, Eli Gunnemark, Amelie Roche, Hans Honold, Sylvia Gross, Marcos Astete, Max Seigal
Revalidations: Ben Wallis, Tarn Pilkington, John McKeon, Sarah Merusi Danyau, Nico Danyau, Zak Kruzins
Be safe out there. See you next time.